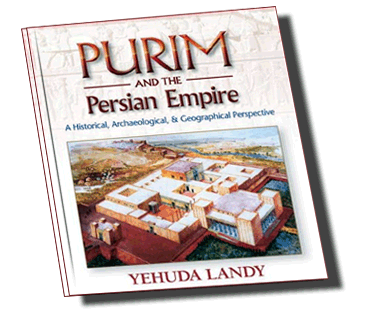 A timeless classic, "Purim and the Persian Empire", by Yehuda Landy, gives a new perspective on the Purim holiday, based on its historical background. It has turned the study of Purim into a fascinating world history lesson, focused on the Bais HaMikdash, Jerusalem, four world empires — Assyrian, Babylonian, Persian and Median and Greek.
About – Purim and the Persian Empire
More than just another Book on Persia.
Step into a new world, the world above, beyond, and before the Purim story, in this riveting, state-of-the-art work.
History, archaeology, and geography intersect here with a fascinating account of the people, places, and cultures preceding and during the Purim story,
including cutting-edge findings, research, and artifacts that lend richness and scope to the events recorded in the Megillah.
Features – Purim and the Persian Empire
This thoroughly captivating book answers many important questions about the Purim story and weaves together Biblical sources with numerous
historical documents for a professional and satisfying perspective.