BS"D This is Part 4 of the DIY Home Shatnez Lab Series where we try to identify fabric fibers based on their microscopic features.
For the purpose of Shatnez, we can try to focus only on two natural fibers: wool and linen.  However, for a practical purpose, we should include other fibers in our repertoire of fabric recognition because wool and linen are often combined with other fabric types in manufacturing.
In our home Shatnez lab, we are going to try and recognize these six fabric fibers: Cotton, Flax/Linen, Wool, Silk, Rayon, Polyester, and Nylon.
Cotton
The cotton fiber is easily recognized under a microscope (at least 90x magnification) as flexible flat tape or ribbon with twists and bends.  Sometimes a longitudinal line called a Central Lumen can be easily seen in the fiber.
Flax/Linen
Linen is produced from the Flax plant and is sometimes labeled as Flax in commercial fabric stores. The flax/linen fiber is recognizable through its rounded body much like a twig and is also identifiable from its bamboo-like transverse nodes or cross segments.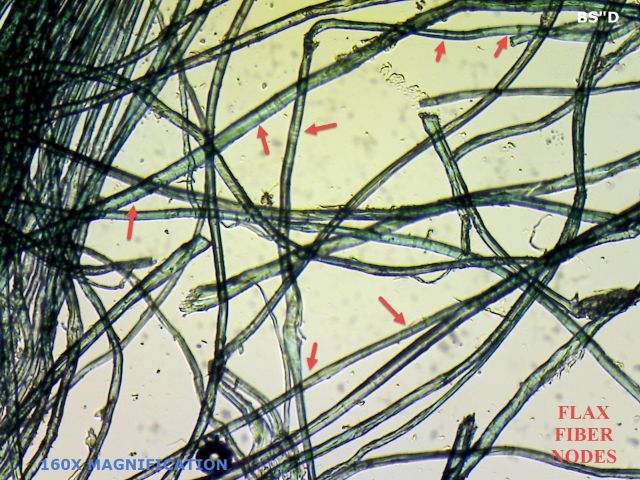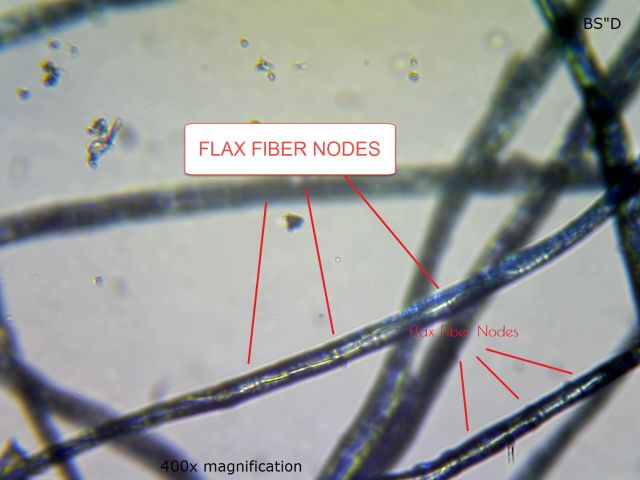 Wool
The wool fiber is easily recognizable through the scales on its body closely resembling the scales on an asparagus stalk.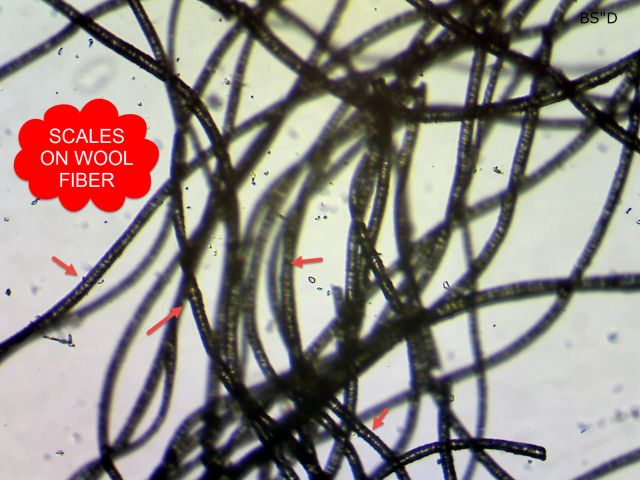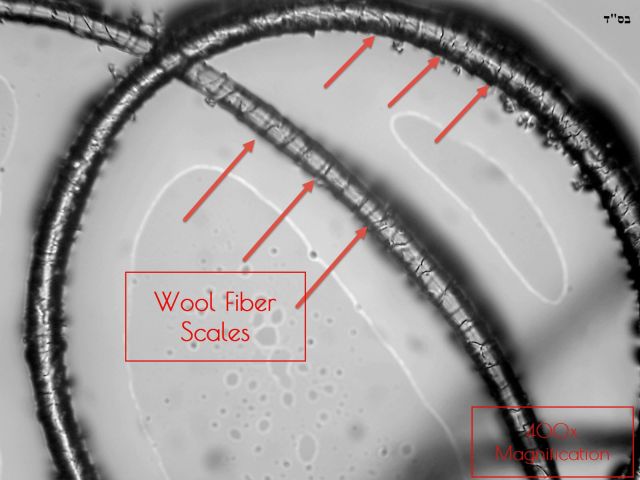 Silk
Commercial silk fibers are produced from cultivated silkworms (mulberry) and wild silkworms (tussah).  Silk fiber from cultivated silkworms are more uniform in width, transparent with smooth and structure-less surface resembling synthetic fibers. On the other hand, silk fiber from wild silkworms are less uniform in width, darker in color, coarser and appear to have longitudinal striations.
Source: http://what-when-how.com/forensic-sciences/types/
Rayon
Rayon is chemically processed from wood pulp, or cellulose from cotton linters, both of which are natural sources, but is often regarded as a synthetic fiber.  There are many types of commercial rayon fibers: Viscose, Modal, Lyocell (Tencel), Avril, Cupromonium, etc.
When viewed under the microscope, the Viscose Rayon fiber appears to have lengthwise longitudinal striations.
Lyocell or Tencel, a cousin of Rayon, appears to be more like Polyester with cylindrical and uniform-width fibers.
Polyester
Polyester, aka Dacron, a synthetic fiber, appears transparent, cylindrical and evenly smooth.
Nylon
Nylon, another artificial fiber, appears also to be cylindrical, smooth and uniform in diameter like Polyester.
Blends
In today's commercial textile industry, fabric manufactured from different fiber blends have become very popular.  These blended fabrics are marketed for apparel as well as home furnishings.  For our Shatnez purposes, both Wool and Linen have appeared as blended fabrics together for making suits.  Here are a few examples of these Shatnez fabric being sold today.
Suiting Fabric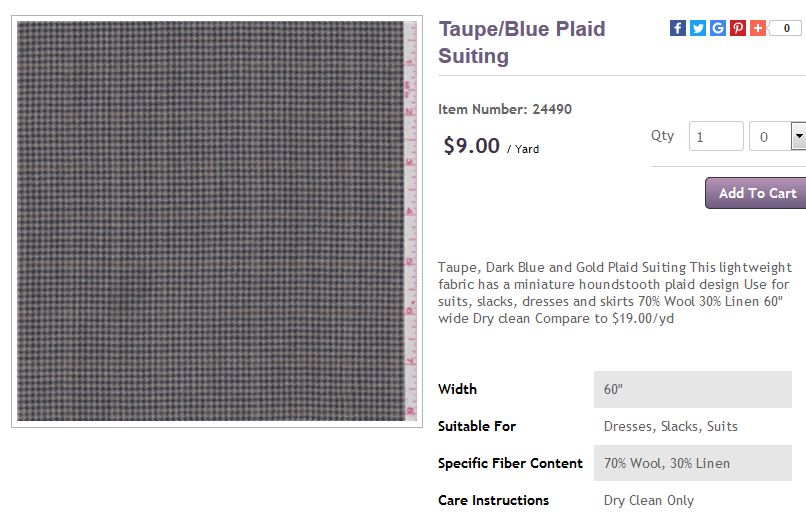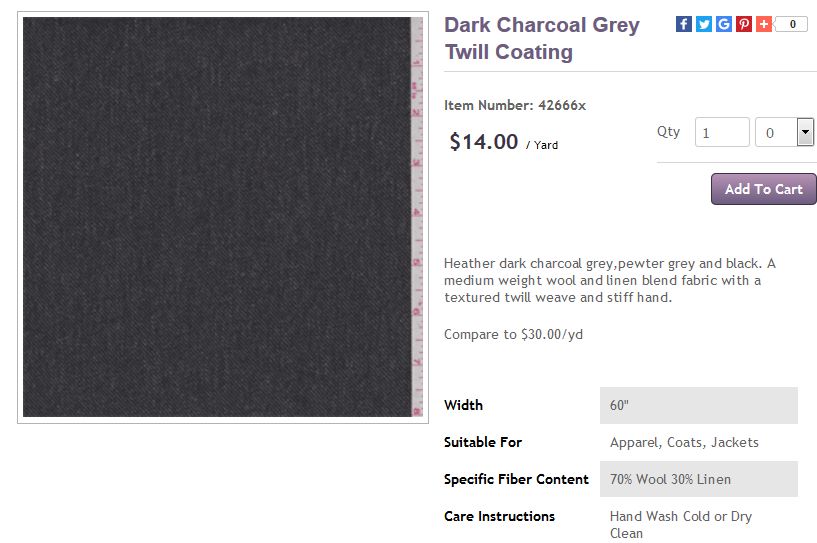 Many parts of a garment that need strengthening such as collars, sleeve cuffs, pocket cuffs, and lapels utilize a fabric called Interfacing.  High-end Wool suits often use Linen Interfacing such as this one.
Tie Fabric
Although Silk is used a lot in making ties, today you can find Silk and Linen Blend Ties or 100% Linen ties.  Wool is the preferred underlining fabric used in making ties.  Hence, a simple tie can be a living Shatnez example.
Upholstery Fabric
Although the Torah prohibition is against wearing Shatnez that is found in a garment, the Rabbinic prohibition extends beyond apparel.
While the Torah prohibits wearing shatnez ("shatnez on the body"), "shatnez beneath the body" (e.g. upholstery and carpets) is forbidden by rabbinical prohibition. Therefore, sitting, lying, or walking on shatnez is prohibited when there is the concern that the shatnez material may come off and cling to the body. — Aish.com
Here is an example of upholstery fabric made out of Shatnez.
Threads
Linen threads are popular today and are made into embroidery threads or hand and machine sewing threads.  Linen blend threads are also available in the market.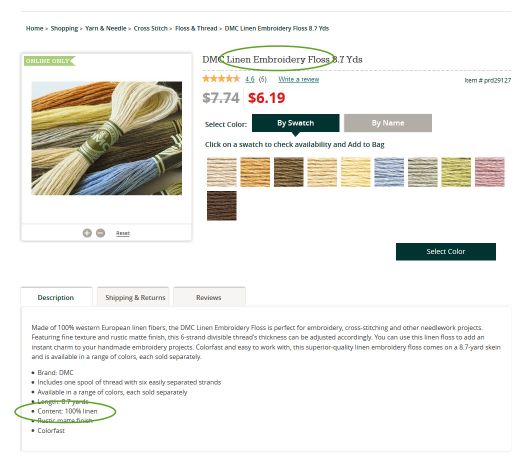 Microscopic Fabric Blends
Here are a few samples of fabric blends under the microscope.
Wool and Cashmere Blend
Wool comes from sheep but Cashmere comes from goats.  The prohibition of Shatnez is only referring to Wool from sheep.  However, commercial cashmere is often blended with wool, and can be mislabeled, hence, it's better to check a garment that claims to be made only of cashmere.  Similarly, one should be wary of a garment claiming to be only made of wool.
We will continue the next segment in this series with Where to Look for Shatnez in Clothing.